Cold wind was whipping the raindrops into tiny missiles and they attacked me as I hurried from my car up the stairs. The warm purple cape that a friend had gifted me was dripping cold around the edges before I made it inside, worried that it would be ruined. In my haste, gloves had been forgotten and holding the wet, iron stair rail was like holding ice. I thought about the warm fire in the fireplace at home.
I am settled, surrounded by friends, the slightly damp cape behind me, when the good pastor, he looks straight at me and says, "Have we become padded pew Christians?" I am ashamed. I have come to worship and all I have thought about is my own comfort.
Tangible things are a blessing from God. There is nothing wrong with having a beautiful, comfortable place to worship, as long as it isn't what we are worshiping. The same Holy Spirit inhabits our praise, whether it is a thatch-roofed hut in Africa or a crude block building in Honduras or a cathedral with steeples reaching toward heaven.
Thanking Him today for:
this promise: Jesus Christ is the same yesterday, today, and forever. (Hebrews 13:8)
a warm and dry place to worship
no fear of being arrested for worshipping God
a Father that is never distant
a Father that will never fail
a Father who will do what He says He will do
a Father who is always enough
friends to pray with
friends to laugh with
friends that help when I stumble
friends to teach me
elderly friends who mentor
young friends who give me hope
friends who call at just the right time
a safe trip out of town
beautiful granddaughters
unexpectedly seeing old friends
freedom to dance
health to dance
success stories
sunshine after the rain
reflection of sunlight off windchimes; dancing on the wall
hot cereal
work to do
the power of letting go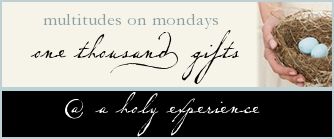 Joy Dare 101-125